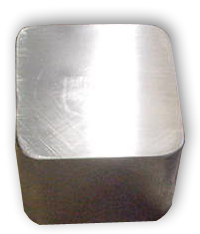 $100.00
FREE shipping anywhere in the USA!
Delivered by USPS Priority Mail
Toll Free Order Line: 888-737-5714
The 4x4 Anvil is a piece of 4140 tool steel approximately 4" x 4" x 4". The length varies from 3 3/4" - 4 1/4". The 4x4 weighs 17 to 20 lbs. It is oil quenched and tempered to mid 40's Rockwell C and ground smooth on two sides. The remaining 4 sides are left as forged, which gives you 4 nicely rounded corners to work on and 8 squared edges.
The 4x4 Anvil works well for jewelers, beginners on a tight budget or smiths trying to keep things primitive. Also available in slightly oversized and slightly undersized 4x4 anvils, call for pricing.