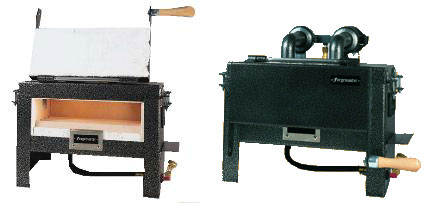 The Blacksmith Model Forgemaster provides the greatest versatility for blacksmiths, Bladesmiths and farriers. Our deluxe model, the Blacksmith is perfect for production and shop use and is a popular competition forge. It's versatility can also come in handy in the field for both blacksmiths and farriers. Openings on both ends accommodate long pieces of barstock for fast production work. The tight fitting, insulated door minimizes heat loss so that the steel gets hot faster while you stay cooler. This model is a double burner with sideports and a solid front door.
Other Forgemaster models are also available. Email or call us for details.

I sell a Stainless Steel version of the Blacksmith model for the Ultimate in gas forges. It comes standard with a Dual Valve Assembly for total control of your forging enviorment.
Specifications
weight: 86 lbs.
height: 12"
length: 17"
depth: 11"
heating chamber: 13"w x 8 1/2"d x 3"h
operating pressure: 5 - 15 psi
fuel: propane vapor Sold with 9' fuel hose and a 0-30 psi propane regulator
Why Buy a Forgemaster?
When you're in the market for a new portable gas-fired forge, you have several makes and models from which to choose. Please compare the advantages of purchasing a Forgemaster to any other portable forge on the market. When you make this important investment in your business we are confident that the value of the Forgemaster will place it at the top of your list.
Constructed of thick 12 gauge (.109) hot rolled premium steel
Heavy-duty welded two piece clamshell construction
Full 3" heat chamber opening
Needle valve fuel adjustment insures precise distribution of fuel flow
Unique slanted base for top mounted door units allows easy and convenient access to heat chamber
Makes forge welding a cinch in this professional quality gas forge
Tough and durable powder coated black and silver "hammered metal" finish
9' long fuel hose (12" longer than many other forges)
Fully assembled, ready to use UL listed regulator and pressure gauge
Convenient spark igniter assembly
Heavy cast iron burners permanently welded to housing top
Quick and easy replacement of lining and hearth brick material
Accessories designed exclusively for Forgemaster enable you to customize your forge to suit your needs and applications


LIMITED LIFETIME WARRANTY ON FORGEMASTER FORGES

Everything you need is in this package, just add a tank of propane!

Dual Valve Assembly available on double burner models for $680.00. This option will save you money on gas and allows you to control the length of heating of the steel. Why heat up the entire length of your steel workpiece, if you only need heat on one end. I find this option to be the best investment you can make with this forge. I don't know of another forge that offers this kind precision heat control.
Dual Burner with Single Burner Control (model 50000) $775.00
Dual Burner with Dual Burner Control (model 50002) $850.00
Forgemaster 2000 Stainless Steel Dual Burner Double Valve (model 60000) $1215.00


Call for a shipping quote to your location. We deliver via UPS all over the US. Weight of the Blacksmith Model is 86 lbs.