applications

Applications of Old World Anvils Fly Presses
Punching
Cutting
Chiseling
Fullering
Pressing
Slitting
Drifting
Bending
Stamping
Deep Drawing
Texturing & Surface Ornamentation
Straightening
Open and Closed Die Work
Bending Large Stock in Graceful Arcs
Cones or Corkscrew Like Shapes.
Combine these forms to add a new dimension to your work. Break into the high end architectural, furniture, lighting or sculpture markets. Great for furniture (tables, beds, chairs, etc.) Ornamental Ironwork like: gates, railings, fences and much more.

If you have a repetitive element to make, just weld up the top profile and insert it into the top hole in the ram. Place the bottom profile on the press bed. Insert the hot steel in between the top and bottom tools and with a motion like closing a refrigerator door, out pops your repetitive element. Can't get much easier than that. The photo below is an example of what I'm talking about.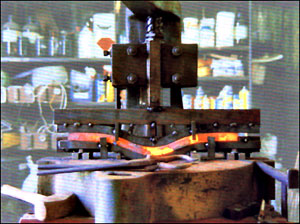 This photo is taken from an excellent book, "The Artist Blacksmith", by Peter Parkinson. This is a must have book.
Think of the drudgery, time and money you'll save and how much faster you can make your various elements. No electricity required. No noise either. The only limitation is your imagination and initiative.

What the fly press really means to the shop owner is PROFIT! Less time doing repetitive jobs, more time working on new jobs or spending time with friends and family. What this also means is now you can take on more jobs and perform processes previously impossible using other means or without a helper on hand and lot of time getting it right.