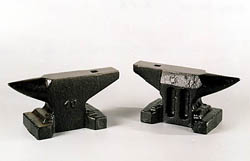 smaller austrian style anvils
From $110. to $575.
With six different sizes from 6.5 to 66lb these are great for Jewelers, Gunsmiths or ...
Smaller Anvils in the Tradition of the Great Austrian Smiths

These are made by the same foundry that makes the larger anvils on this site. They are made of the same high carbon manganese steel. They include "Cathedral Windows" which are a type of swedge, that means you get two tools in one. This is very useful for making goblets, chalices, vessels and other round shaped objects. You can also use them to make sculptures that require rounded shapes.

These 11 and 22 lb anvils are great for making jewelry. Super for doing small, intricate work, or makes a great bench anvil for metalsmiths or leatherworkers. All have the same great ring and rebound as found in my larger anvils.

These anvils can also be used for SCA events or when you don't want to carry around a heavy anvil and they are faithful to the period. Jewler's or those who need a bench anvil can also take advantage of these anvils.

The 11 and 22 lb are great for jewlers or as a small bench anvil. The 44 lb is great for jewlers, metalsmiths or light forging. The 66 lb is a super size for new commers to forging, or use it as a portable anvil for demos or re-enactments.
 
The Austrian 3, 5, 7 and 10 are shipped USPS Priority Mail for free anywhere in the USA. They can be purchased through our online store or call our toll free order line @ 888-737-5714.
On all the other sizes call 888-737-5714 or email oldworldanvils@tds.net for a shipping quote.
| Anvil | Weight | A/Horn | B/Face Length | C/Rear Face Length | D/Wide Face Width | E/Narrow Face Width | H/Hardy | M/Base Length | N/Base Width | V/Height | Price |
| --- | --- | --- | --- | --- | --- | --- | --- | --- | --- | --- | --- |
| Austrian 3 | 7 lbs. | 2 1/2" | 2 3/4" | 2 1/4" | 1 1/2" | 1 1/4" | 3/8" | 4 3/4" | 3 1/8" | 3 5/8" | $110.00 |
| Austrian 5 | 12 lbs. | 2 3/4" | 3" | 2 1/2" | 1 5/8" | 1 1/2" | 1/2" | 5 3/4" | 3 5/8" | 4 3/8" | $140.00 |
| Austrian 7 | 17 lbs. | 3 1/4" | 3 1/4" | 3" | 1 7/8" | 1 5/8" | 5/8" | 6 3/8" | 4" | 4 7/8" | $165.00 |
| Austrian 10 | 25 lbs. | 3 3/4" | 4" | 3 1/4" | 2 1/8" | 1 7/8" | 5/8" | 7 1/4" | 4 1/2" | 5 3/8" | $195.00 |
| Austrian 20 | 44 lbs. | 4 1/4" | 5 1/2" | 4" | 2 5/8" | 2 3/8" | 3/4" | 8 5/8" | 5 5/8" | 6 3/4" | $345.00 |
| Austrian 30 | 66 lbs. | 6" | 6 1/4" | 4 3/4" | 2 7/8" | 2 5/8" | 3/4" | 10" | 6 3/4" | 8" | $575.00 |