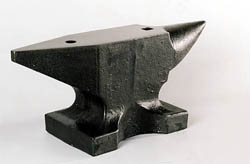 Bulgar Anvil(Italian Style)
From 70 lbs. - 205 lbs.
Priced from $475. - $1250.
Very Nice Anvil
This anvil is made from the same high carbon, manganese steel as the other anvils we sell on this web site and is made in the same factory. It is called a Bulgar or Bulgarian Style by the manufacturer, but we think it looks more like the Italian style available from another anvil supplier in the US. Of course this anvil is a much better value, like all of my anvils, because hourly shop rates are lower at my suppliers foundry. This anvil has a very wide face for it's size and is a great value.

This anvil has many of the features found in Classic Italian Anvils, except the price is a much better value than others on market.

This anvil is a fantastic value on a price per pound basis and performance basis. Beautiful Clear Ring! Great Rebound!
| Anvil | Weight | A/Horn | B/ Face Length | C/Rear Horn Length | D/Face Width | H/Hardy | I/Pritchel | M/Base Length | N/Base Width | V/Height | Price |
| --- | --- | --- | --- | --- | --- | --- | --- | --- | --- | --- | --- |
| Bulgar 30 | 70 lbs. | 5" | 7 1/4" | 5" | 3 1/2" | 3/4" | 3/4" | 7 3/4" | 5 3/4" | 7 7/8" | $475.00 |
| Bulgar 50 | 110 Lbs. | 6 1/2" | 7 1/2" | 6 1/4" | 4 3/8" | 3/4" | 3/4" | 10 1/2" | 7" | 8 1/2" | $775.00 |
| Bulgar 90 | 205 lbs. | 7 3/4" | 9 1/4" | 8" | 5 1/2" | 1" | 1" | 11 1/2" | 8" | 11" | $1250.00 |